Getting started with aRMT app of RADAR-Base to collect Patient Reported Outcomes (PRO) #
Active remote monitoring is an effective method to collect Patient Reported Outcomes (PRO) e.g. via questionnaires, active tasks and challenges. Active remote monitoring can be used to analyze cognitive behaviors, mental health and overall well-being of an individual or cohort.
In the space of RADAR-base, the aRMT app or so called "Questionnaire app" is widely used to collect electronic questionnaire answers and to provide input to complete other active tasks scheduled in the study protocol. One highlights of aRMT app is the ability to remotely configure/modify study protocol and/or questionnaire contents.
This article will guide you through an evaluation of the aRMT app by allowing you to enroll as a study participant and complete questionnaires. Following, you will find instructions to install the aRMT application on your Android phone and enroll one or more participants in the study management system, called ManagementPortal. We acknowledge our partners KCL and The Hyve for their contribution to make this happen. This demo is facilitated by The Hyve.
If you are not familiar with enrolling participants in ManagmentPortal, please read the "demo using pRMT app" guide for detailed explanation of the procedure. Please read this blog for more information about study management in RADAR-base.
---
A video demonstrating the aRMT app.
---
Important Notice: Active remote monitoring protocol is tied to the project the participant is assigned to. The app you will download online is the app that is used in production for RADAR-CNS studies. To facilitate this demo, we have created a "project for development and demonstration purpose" called STAGING_PROJECT. The app fetches questionnaires and schedules assigned to this project.
Please be aware that this project is commonly available for all users who want to try out the aRMT app and the data is stored on the server hosted by TheHyve. We kindly request you not to delete or alter details of subjects that are not created by you. We do not store any personally identifiable data from this demo. Please keep note of the subject identifier you have created to receive the corresponding data.
---
Step 1. Download and Install RADAR-Base aRMT from Android playstore. #
Please go to the play-store on your Android phone and search for "RADAR active RMT" and install the application. Once installed you will see the welcome screen to select preferred language and start the process. The default language is set to English.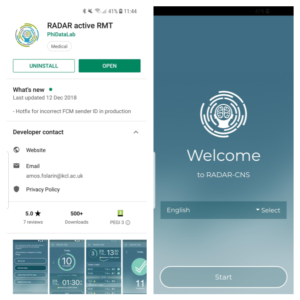 Step 2. Login into ManagementPortal #
Login to ManagementPortal
Login using username and password provided here.  (Please get in touch with The Hyve team via radar-base@thehyve.nl to get a valid account credentials)
Once logged in you will see the projects that are accessible to you. Click on the View button to go to your project view. The project view gives information about the relevant project, subjects (participants), sources (apps, devices connected to the project) and users.

Step 3. Participant on-boarding #
The participant on-boarding process is quite easy and can be done with a few clicks and scanning a QR code generated by the system.
To start with the process, create a new subject to add a new participant to the study. Click on Create a new Subject on your study view.
By default you do not have to enter any details here. However, we recommend you to mention an unique External id (ideally one that refers to an identifier from an external system such as identifiers from your organization or management system) to easily identify your subject from the others. Click on Save to create the subject.
You will see a new subject created which displays your external id.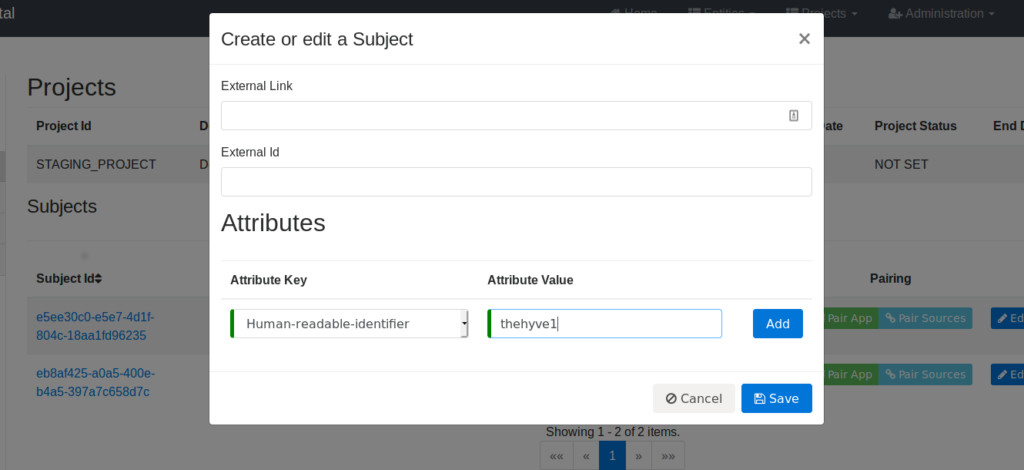 Step 4. Generate QR code for your participant #
Click on Pair App on the subject you created.
You will see a pop-up. From the Client app drop-down, choose aRMT. Then you will see a QR code generated for you.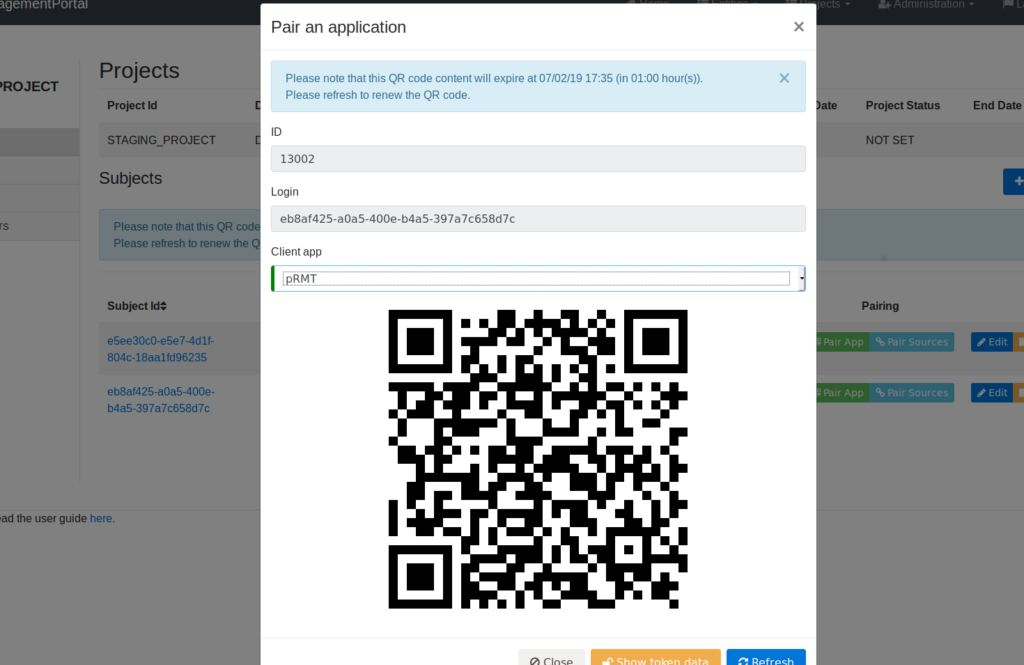 Step 5. Scan QR code from aRMT app and start completing tasks #
Open the aRMT app you have installed on your phone, select your preferred language then click on Start.
Continue by clicking on Enroll to enroll your participant to send data from aRMT app.
Click on Scan and scan the QR-code you have created earlier.
Once the QR-code scanning is successfully completed, the app will load the questionnaires and tasks based on the protocol configuration.
Finally, click on Finish to complete the enrollment process.
This will enable you to send completed questionnaire and test data from the app on your phone.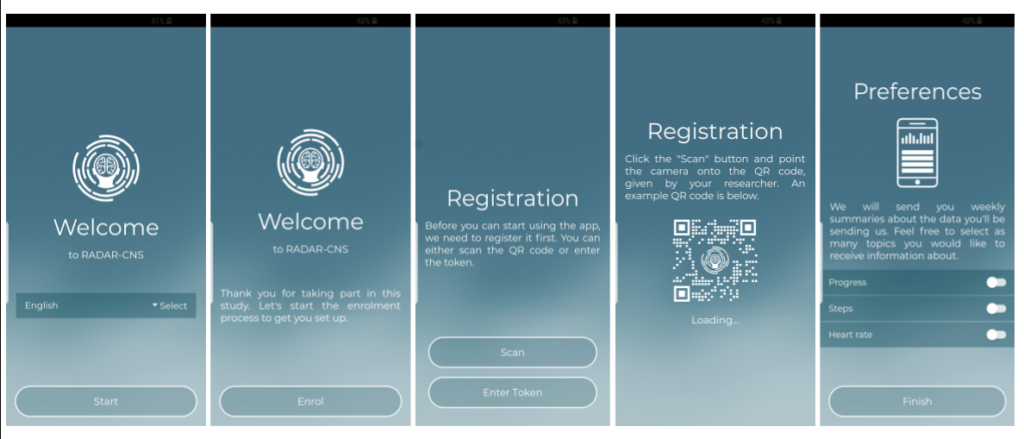 Step 6. Explore the aRMT app, scheduled tasks and complete them. #
Once enrolled, you will see the home screen. It shows an overview of your task lists and task progress and allows you to start answering the first task on your schedule.
Click on Start button to answer questionnaires and complete tasks. The process is very simple and intuitive. Select the answer and press Next for next question. Once the questionnaire is completed, the app updates the progress and schedule accordingly.
The app enables various kinds of inputs for questions such multiple choice, range, check-box etc and also enables clinical assessments such as timed-tasks with instructions etc. The app also comes with a tasks calendar which displays today's task agenda.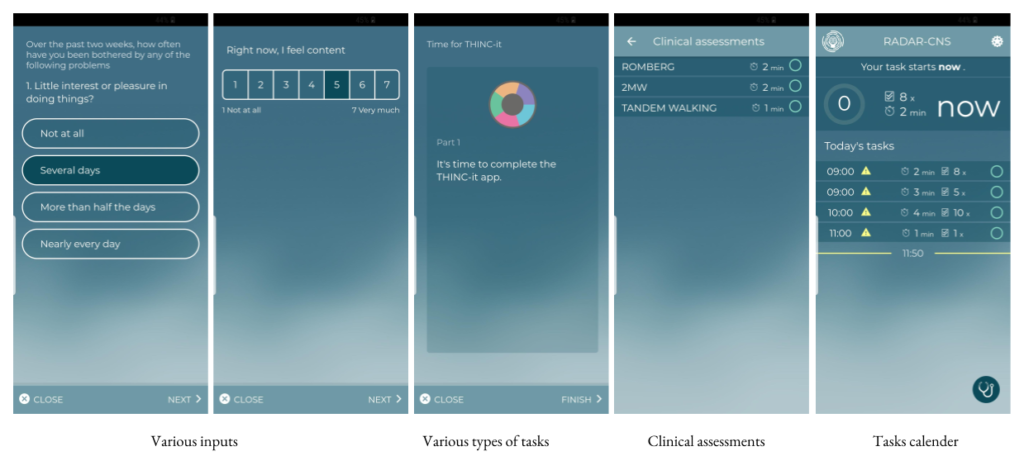 Conclusion and follow-ups #
This purpose of this article is to enable users to get familiar with the aRMT app and the features it offers. To access the data you have submitted through this demo, please get in touch with the RADAR-base team of TheHyve(radar-base@thehyve.nl) and send a request with your subject identifier to get the data.
RADAR-base community welcomes feedback and inputs. Get in touch, if you are interested in aRMT app and wants to know more about it or how you can customize the app to fit your custom remote monitoring assessments.