Insights of RADAR-base platform
RADAR-Base is an open source data collection and management platform for remote assessment of diseases using various wearable devices and mobile application technologies.
Concepts behind the RADAR-base platform architecture
The RADAR-base platform architecture was built with extensibility, flexibility and scalability in mind. Hence, the platform is designed using plugin-based architecture which allows various data ingestion, validation, authorization and access methods can be used. The architecture of RADAR-base makes great use of Apache Kafka and the Confluent platform, a state of the art technology for distributed real time streaming. Apache Kafka is a novel appropriate for building real-time streaming/transforming data pipelines that reliably move data between systems at scale.
RADAR-base is built on top of the concept of Kafka Connectors introduced by the Confluent platform. Kafka Connectors are components built using Kafka connect APIs, an interface that simplifies and automates the integration of a new data sources or data consumers to a Kafka cluster. Kafka connectors can be categorized into Source connectors (to ingest data into Kafka cluster) and Sink connectors (to consume data from Kafka cluster). The diagram below depicts the high level architecture of data collection and management of RADAR-base platform.
High-level Architecture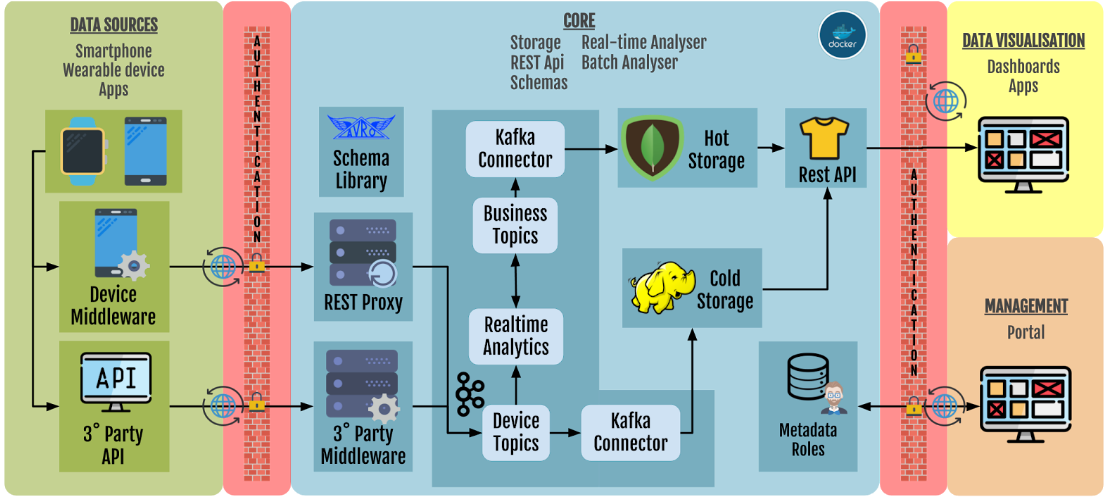 ---